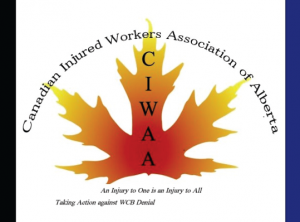 Welcome to the website of the Canadian Injured Workers Association of Alberta.
July 29, 2019: Burden of proof in workers' compensation: In the past no one in government was  willing to touch the sacred cow. Even the fair practice office passed the buck and refused to answer the question. How fair is that?
National Day of Mourning: April 28, 2019
162 people who died as a result of workplace accident or disease were honoured at Edmonton's Day of Mourning ceremony on April 28 at Grant Notley Park. Here are some photos taken by Paula Kirman – you can view all of her photos here, and view videos from the event here.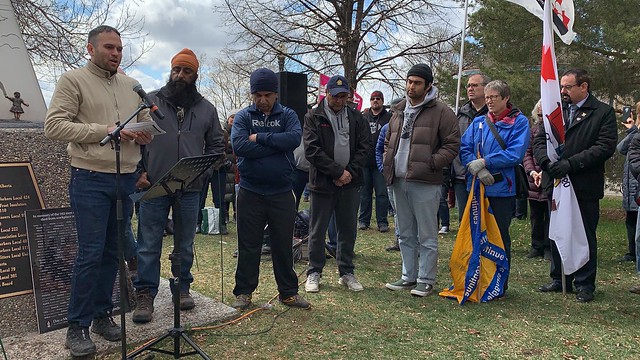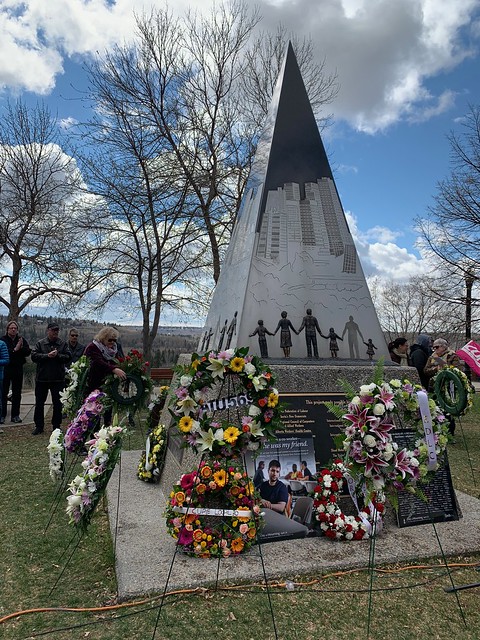 UPDATE: APRIL 16, 2019
Albertans turned to the United Conservative Party tonight because the economy is stalled and UCP leader Jason Kenney promised that he could get it kickstarted by going to war with Ottawa over pipelines and reducing corporate taxes from 12 percent to 8 percent and scrapping the carbon tax.
Those tax cuts are to be paid for through huge cuts throughout the budget. Anyone who believes that the cash cow of workers' compensation will be spared is delusional. In theory, workers' compensation funds are separate from general revenue and are there for injured workers. But in practice funds collected from employers for workers' compensation but undistributed to injured workers provide a float of money for a government. The less money that a government is collecting from income tax, corporate tax, carbon tax, etc., the more important a float like that becomes. A cash-starved UCP government, which is also singularly focused on cheapening the taxes and levies on businesses, is neither going to want to sacrifice that float nor levey larger WCB fees.
The NDP proved a disappointment to injured workers because it was unwilling once in office to challenge the entrenched Tory civil servants and doctors who developed a culture of denying or restricting compensation even when physicians unconnected to the WCB made clear that workers' injuries made it impossible for them to return to work. They refused to change the law to ensure that objective medical diagnoses by competent physicians could overrule the prejudices of WCB doctors and employees. In opposition, the NDP had seemed to understand that the WCB and its Tory masters were anti-worker. Well, now, we will have a government that is the successor to the previous Tory regimes, led by a premier whose record as a federal and provincial politician in terms of workers' issues is a disaster. This is the guy who insisted on immediately deporting temporary foreign workers who suffered injuries when they were doing some of the dirtiest jobs in Canada often for the lowest possible wages.
So what can Injured Workers do? We didn't get too far by simply dealing in the back rooms with the NDP government while saying little to the public about our plight and our demands. We'll get nowhere with the UCP if we continue that way of dealing with government. Instead what we need to do is publicize our case as much as possible through the media and work with other civil society groups, such as Public Interest Alberta and the Parkland Institute, to demand changes. The NDP, while in opposition, will likely become supportive of our cause once again, particularly if we have allies among labour and other progressive groups. But we cannot depend on political parties as such. We need to do everything we can to make our issues an issue with the broader public. After all, most of society are workers and most of them assume that if they are injured on the job that society, via the WCB, will look after them. We need to let them know that as things stand that is not the case and that by supporting us to get justice for unrecognized damage to our bodies and brains, regardless of who is in government, they are protecting themselves as well.
April 28, 2019: Can we work together in Alberta? Follow Ontario's supported programs.
To: Unions in Ontario and ONIWG Member Groups
The OFL & ONIWG are sponsoring an exciting Workers' Compensation Conference on June 20-21 at the IBEW Local 353 Hall in Toronto. The purpose of this conference is to inform our activists and advocates, to review and reinvigorate the Workers' Comp is a Right campaign, to work with our system partners to make the compensation system fairer for injured workers and to support collaboration with labour and the injured worker community to achieve these goals.
We begin with a special preview of the new Widows of Asbestos documentary about the Peterborough GE workers, followed by a panel discussion on lessons learned in fighting for victims of occupational disease. Afternoon workshop choices are OFL Prevention Links' Advanced Workshop on Mental Injury Claims, or Mental Health 101, or Accommodation Law. On Friday morning Steven Bittle, Associate Professor of Criminology from the University of Ottawa presents his study on Underreporting Work-Related Deaths in Canada, followed by a panel discussion of what we can do about it. Friday morning will end with a discussion of labour and injured worker groups working together, and the conference will adjourn at 12:30 pm.
The conference will be held at the IBEW Local 353 Hall in Toronto. A block of rooms has been reserved at the Toronto Don Valley Hotel and Suites, 175 Wynford Drive, and will be held until May 21, 2019, at a rate of $ 145.00 single or double occupancy.
To reserve a room, contact Toronto Don Valley Hotel & Suites: 175 Wynford Drive Toronto, Ontario, M3C 1J3, tel: 416-449-4111, toll-free reservation: 1-877-474-6835.
To register, please go to: OFLONIWG2019.eventbrite.ca. A registration fee of $200.00 is set for delegates.
This conference is a must for all workers' compensation activists! Space is limited, so register early.
MORE UPDATES
News and articles are always being added to Our Blog – please keep checking back for updates! A few of the latest posts:
Too Much Power (Human Rights Commission and WCB)
When will the public be tired of the garbage at the WCB? Will this madness ever stop? Case Managers and DRDRB do not have to know where the leg or the head is on an injured workers body but has the power to cripple a person with their uneducated decisions. They continue to only accept the medical opinion of the paid WCB medical consultant. The appeals commission has denied chronic pain in certain claims that was accepted for years. They don't even have the jurisdiction to do so. How can some one earn almost $200,000 a year in Alberta and not even review the last three member panel review. Where they found out that nothing in 40 years changed. The case managers and DRDRB still don't require medical or legal knowledge and typically pick the WCB paid medical consultants opinion over medical specialists and doctors that have treated you for your injury over the last nine or ten years. No wonder an injured worker is left crippled. This is not a joke so why are they still laughing?
Summer/Fall 2018: A major thank-you to Paula Kirman for filming injured workers on June 28 talking about Bill 30 and their personal stories of dealing with the WCB. Here is the video!
Here is information about a new report from the Parkland Institute.
---
May 2018: All out for Injured Workers' Day!
April 2018: One of CIWAA'S goals is to have the provincial government re-open all WCB claims that were rejected due to an opinion by an independent medical consultant. We are in the process of gathering information – read more.
March 2018: Check out our Bill 30 Archive including a Summary of Recommendations.
Watch this video from Alberta Primetime, which features an interview with the AFL's Gil McGowan.
Also, important reading is Ricardo Acuna's article in VUE Weekly from November: Growing Pains: Workers' Compensation Board review shows that there is still room for improvement
Update: November 24, 2017: This week's VUE Weekly features an article about our petition in the context of the WCB review. Thank you Ricardo Acuna for writing it. You can read it here:
Growing Pains: Workers' Compensation Board review shows that there is still room for improvement
Also, be sure to check out the petition being tabled in the Legislature by MLA Chris Nielsen at his Facebook video page.
And listen to an interview with CIWAA's Donna Oberik last week on CBC Radio.
---
Update: November 15, 2017 – CIWAA would like to thank MLA Chris Nielsen for tabling the petition yesterday. Chris was passionate and expressed the concerns of injured workers to the members in the house at the legislation. We want to thank those injured workers that came to support themselves. They came from Calgary and Drumheller. Hats off to all of you.
For those of us that heard every word MLA Chris Nielsen spoke we are extremely grateful and impressed that he understood WCB is still unjust and legislation needs to be changed immediately. CIWAA members still feel that there has not been any recommendations or provisions for those injured workers that have been denied their legitimate injuries because of personal opinion from the paid for WCB chosen doctors. Government needs to re- open up those claims ,start from scratch using medical evidence , clinical evaluation , treating specialists and physicians evidence instead of paid for personal opinion that helped WCB deny the injured workers rights and natural justice.
CIWAA was live today on CBC radio . We must continue to pressure the government to seek the truth be hands on and investigate claims that were closed on personal opinion of the WCB chosen paid doctors. WCB spends millions of dollars on medical investigation (opinions ) in order to deny an injured worker when they could spend a pittance accept medical evidence and give a person back a life worth living after injury.
---
Update: October 2017
***To read the Canadian Injured Workers Association of Alberta Response to the Final Report of the Alberta Workers Compensation Board Review Panel, click here.***
The Report and Recommendations of the of the Alberta Workers' Compensation Board (WCB) Review Panel was released by the Alberta government in early July.
Congratulations to all injured workers, their advocates and allies who presented their stories, evidence, and experience to the panel. Together our work helped to smash the silence on the failure of the WCB system to provide what injured workers need and its obsession with reducing employer premiums, not caring for injured workers. We spoke out in defence of our rights, our right to be treated with respect and dignity, to the maintenance of our standard of living, to retraining when needed, and to have our health and medical needs taken care of.
The Panel began its work in early 2016. Many injured workers actively took part in the panel's review, responding to the injured workers questionnaire, giving written submissions to the Panel, participating in meetings organized between the panel and injured workers in Edmonton, Calgary and Lethbridge, as well as "engagement sessions" in which CIWAA participated. We thank our allies and advocates including the Alberta Federation of Labour, many unions and other organizations for their hard work and for the assistance they provided to us.
Many of the 60 recommendations of the Panel, if implemented, will make a positive difference for injured workers. Now we must ensure that what is missing is also included, and continue to work for new legislation which upholds our rights. Stay tuned for discussion of the next chapter of our work!
(To read the full 192 page report, go to Workers' Compensation Board (WCB) Review www.alberta.ca/wcb-review.aspx)
---
The October 19 issue of Workers' Forum features the article "Compensation is a Right!" by Peggy Morton, as well as CIWAA's response to the Alberta Workers' Compensation Board Review Panel recommendations. We thank Peggy and Workers' Forum for their support. You can download the paper in PDF form at this link.