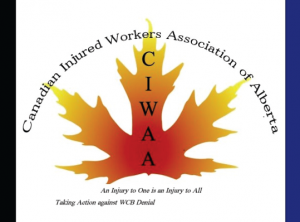 Welcome to the website of the Canadian Injured Workers Association of Alberta.
Site Counter: Our site counter, in the bottom right-hand side of the page, was broken for the last while. Those numbers should be increasing again!
Day of Mourning: April 28 is the National Day of Mourning, where we remember those who have died due to workplace injuries or illnesses. Last year, 166 Albertans never came home, or succumbed to their workplace-related disease. According to the Stats-can survey in 2017, there are about 1,550,000 working aged Canadians who report being limited in their daily lives by a workplace injury or disease.  Official stats put the number of fatalities at over 1,000 each year in Canada. We must mourn for the dead and fight for the living.
Response to the WCB Review: To read the Canadian Injured Workers Association of Alberta Response to the Final Report of the Alberta Workers Compensation Board Review Panel, click here
New Blog Post: Hearing on Eliminating Workers' Compensation Appeals Board in Alaska Senate (Jan. 28, 2020)
October 2019: Please check out the updates after the election. We will be giving case numbers and all names affiliated with an injured workers claim where the AC and WCB has knowingly broken the law and infringed on injured workers' human rights intentionally making injured workers and their families suffer for monetary greed. We ask the public to join in solidarity and help get those in power to press charges with us. In Alberta, no one should be above the law.
If you're an injured worker and have proof the WCB staff and AC panels have laughed at the law regarding your claim, and you want the public to know about it, contact canadianinjuredworkers@gmail.com.
August 20, 2019: Just Common Sense
July 29, 2019: Burden of proof in workers' compensation: In the past no one in government was willing to touch the sacred cow. Even the fair practice office passed the buck and refused to answer the question. How fair is that?
National Day of Mourning: April 28, 2019
162 people who died as a result of workplace accident or disease were honoured at Edmonton's Day of Mourning ceremony on April 28 at Grant Notley Park. Here are some photos taken by Paula Kirman – you can view all of her photos here, and view videos from the event here.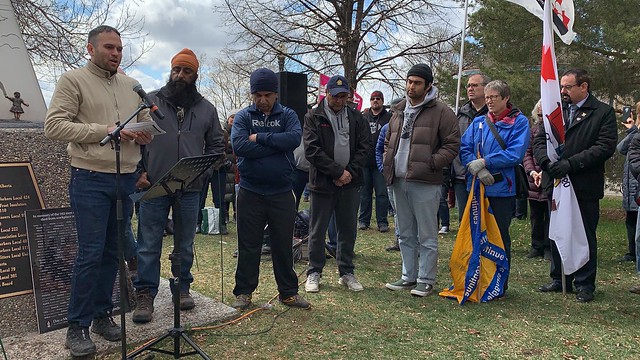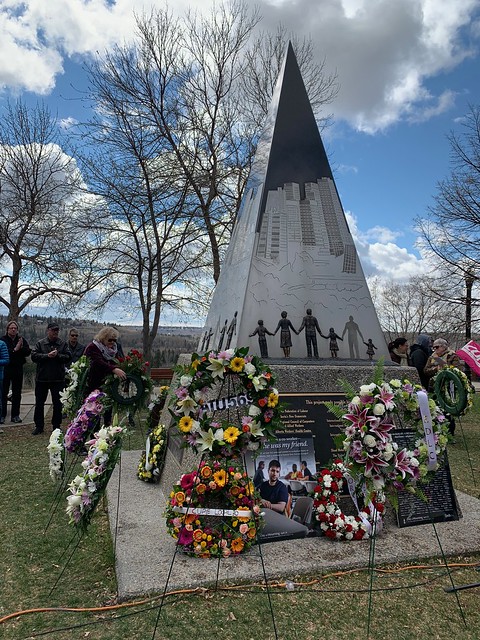 UPDATE: APRIL 16, 2019
Albertans turned to the United Conservative Party tonight because the economy is stalled and UCP leader Jason Kenney promised that he could get it kickstarted by going to war with Ottawa over pipelines and reducing corporate taxes from 12 percent to 8 percent and scrapping the carbon tax.
Those tax cuts are to be paid for through huge cuts throughout the budget. Anyone who believes that the cash cow of workers' compensation will be spared is delusional. In theory, workers' compensation funds are separate from general revenue and are there for injured workers. But in practice funds collected from employers for workers' compensation but undistributed to injured workers provide a float of money for a government. The less money that a government is collecting from income tax, corporate tax, carbon tax, etc., the more important a float like that becomes. A cash-starved UCP government, which is also singularly focused on cheapening the taxes and levies on businesses, is neither going to want to sacrifice that float nor levey larger WCB fees.
The NDP proved a disappointment to injured workers because it was unwilling once in office to challenge the entrenched Tory civil servants and doctors who developed a culture of denying or restricting compensation even when physicians unconnected to the WCB made clear that workers' injuries made it impossible for them to return to work. They refused to change the law to ensure that objective medical diagnoses by competent physicians could overrule the prejudices of WCB doctors and employees. In opposition, the NDP had seemed to understand that the WCB and its Tory masters were anti-worker. Well, now, we will have a government that is the successor to the previous Tory regimes, led by a premier whose record as a federal and provincial politician in terms of workers' issues is a disaster. This is the guy who insisted on immediately deporting temporary foreign workers who suffered injuries when they were doing some of the dirtiest jobs in Canada often for the lowest possible wages.
So what can Injured Workers do? We didn't get too far by simply dealing in the back rooms with the NDP government while saying little to the public about our plight and our demands. We'll get nowhere with the UCP if we continue that way of dealing with government. Instead what we need to do is publicize our case as much as possible through the media and work with other civil society groups, such as Public Interest Alberta and the Parkland Institute, to demand changes. The NDP, while in opposition, will likely become supportive of our cause once again, particularly if we have allies among labour and other progressive groups. But we cannot depend on political parties as such. We need to do everything we can to make our issues an issue with the broader public. After all, most of society are workers and most of them assume that if they are injured on the job that society, via the WCB, will look after them. We need to let them know that as things stand that is not the case and that by supporting us to get justice for unrecognized damage to our bodies and brains, regardless of who is in government, they are protecting themselves as well.