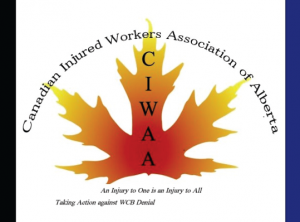 Welcome to the website of the Canadian Injured Workers Association of Alberta.
Get the Latest News: For all current news and updates go to Our Blog and News.
LATEST BLOG POST: DOUBLE INJURY: INJURED ALBERTA WORKERS AND THE WCB
Site Counter: Our site counter, in the bottom right-hand side of the page, was broken for the last while. Those numbers should be increasing again!
Day of Mourning: April 28 is the National Day of Mourning, where we remember those who have died due to workplace injuries or illnesses. Last year, 166 Albertans never came home, or succumbed to their workplace-related disease. According to the Stats-can survey in 2017, there are about 1,550,000 working aged Canadians who report being limited in their daily lives by a workplace injury or disease. Official stats put the number of fatalities at over 1,000 each year in Canada. We must mourn for the dead and fight for the living.
Response to the WCB Review: To read the Canadian Injured Workers Association of Alberta Response to the Final Report of the Alberta Workers Compensation Board Review Panel, click here
New Blog Post: Hearing on Eliminating Workers' Compensation Appeals Board in Alaska Senate (Jan. 28, 2020)
October 2019: Please check out the updates after the election. We will be giving case numbers and all names affiliated with an injured workers claim where the AC and WCB has knowingly broken the law and infringed on injured workers' human rights intentionally making injured workers and their families suffer for monetary greed. We ask the public to join in solidarity and help get those in power to press charges with us. In Alberta, no one should be above the law.
If you're an injured worker and have proof the WCB staff and AC panels have laughed at the law regarding your claim, and you want the public to know about it, contact canadianinjuredworkers@gmail.com.
August 20, 2019: Just Common Sense
July 29, 2019: Burden of proof in workers' compensation: In the past no one in government was willing to touch the sacred cow. Even the fair practice office passed the buck and refused to answer the question. How fair is that?
National Day of Mourning: April 28, 2019
162 people who died as a result of workplace accident or disease were honoured at Edmonton's Day of Mourning ceremony on April 28 at Grant Notley Park. Here are some photos taken by Paula Kirman – you can view all of her photos here, and view videos from the event here.