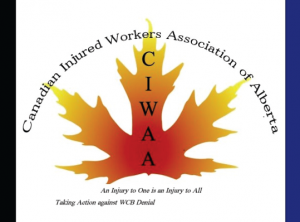 Welcome to the website of the Canadian Injured Workers Association of Alberta.
***We are publishing a blog again! Please check out the blog section of the top menu for our latest posts.***
Update: October 2017
***To read the Canadian Injured Workers Association of Alberta Response to the Final Report of the Alberta Workers Compensation Board Review Panel, click here.***
The Report and Recommendations of the of the Alberta Workers' Compensation Board (WCB) Review Panel was released by the Alberta government in early July.
Congratulations to all injured workers, their advocates and allies who presented their stories, evidence, and experience to the panel. Together our work helped to smash the silence on the failure of the WCB system to provide what injured workers need and its obsession with reducing employer premiums, not caring for injured workers. We spoke out in defence of our rights, our right to be treated with respect and dignity, to the maintenance of our standard of living, to retraining when needed, and to have our health and medical needs taken care of.
The Panel began its work in early 2016. Many injured workers actively took part in the panel's review, responding to the injured workers questionnaire, giving written submissions to the Panel, participating in meetings organized between the panel and injured workers in Edmonton, Calgary and Lethbridge, as well as "engagement sessions" in which CIWAA participated. We thank our allies and advocates including the Alberta Federation of Labour, many unions and other organizations for their hard work and for the assistance they provided to us.
Many of the 60 recommendations of the Panel, if implemented, will make a positive difference for injured workers. Now we must ensure that what is missing is also included, and continue to work for new legislation which upholds our rights. Stay tuned for discussion of the next chapter of our work!
(To read the full 192 page report, go to Workers' Compensation Board (WCB) Review www.alberta.ca/wcb-review.aspx)
---
The October 19 issue of Workers' Forum features the article "Compensation is a Right!" by Peggy Morton, as well as CIWAA's response to the Alberta Workers' Compensation Board Review Panel recommendations. We thank Peggy and Workers' Forum for their support. You can download the paper in PDF form at this link.