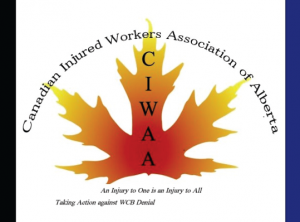 Welcome to the website of the Canadian Injured Workers Association of Alberta.
Get the Latest News: For all current news and updates go to Our Blog and News.
LATEST BLOG POST: Message from Minister Qualtrough: One-Time Payment to Persons with Disabilities
IW Session July 28th with Wayne Gates – NDP – WCB Critic: The Thunder Bay and District Injured Workers Support Group and the Injured Workers Community Legal Clinic, Toronto are pleased to have Wayne Gates, MPP, NDP, Critic, Workplace Health & Safety and Judith Monteith-Farrell, MPP, NDP Thunder Bay-Atikokan Riding join us. We will be discussing ONIWG's Workers Comp Is A Right (WCIAR) Campaign and deeming, Wayne Gates' bill on deeming and injured workers and deeming and the NDP Platform. There will be an opportunity for questions. We look forward to seeing everyone.
Janet Paterson is inviting you to a scheduled Zoom meeting.
Topic: My Meeting
Time: Jul 28, 2020 10:00 AM Eastern Time (US and Canada)
Every week on Tue, until Aug 25, 2020, 5 occurrence(s)
Jul 28, 2020 10:00 AM
Aug 4, 2020 10:00 AM
Aug 11, 2020 10:00 AM
Aug 18, 2020 10:00 AM
Aug 25, 2020 10:00 AM
Please download and import the following iCalendar (.ics) files to your calendar system.
Weekly: https://zoom.us/meeting/tJUtcOGtqT4qEtWRydDXztXwePqG7HTw6Dqi/icscsToken=98tyKuCprjwiH9OQsBGGRowcAo_CWe_wtiVfj7dqrgbhJxhJdjvhM9JTFeVXJM-G
Join Zoom Meeting
https://zoom.us/j/91078575081?pwd=cm5nRVRQMEcvNU9PWmgzQXBGY0toZz09
Meeting ID: 910 7857 5081
Passcode: 279030
One tap mobile
+16473744685,,91078575081#,,,,,,0#,,279030# Canada
+16475580588,,91078575081#,,,,,,0#,,279030# Canada
Dial by your location
+1 647 374 4685 Canada
+1 647 558 0588 Canada
+1 778 907 2071 Canada
+1 204 272 7920 Canada
+1 438 809 7799 Canada
+1 587 328 1099 Canada
Meeting ID: 910 7857 5081
Passcode: 279030
Find your local number: https://zoom.us/u/acURTh2YZu
Article Link: 1983: The Year BC Citizens and Workers Fought Back: Operation Solidarity ended in bitterness, but mass protests scored dramatic victories against Bennett government. (Written by Rod Mickleburgh, a former a journalist with the Globe and Mail for 22 years. He is currently freelancing and writing a blog. His most recent book is On the Line: A History of the British Columbia Labour Movement.)
Site Counter: Our site counter, in the bottom right-hand side of the page, was broken for the last while. Those numbers should be increasing again!
Day of Mourning: April 28 is the National Day of Mourning, where we remember those who have died due to workplace injuries or illnesses. Last year, 166 Albertans never came home, or succumbed to their workplace-related disease. According to the Stats-can survey in 2017, there are about 1,550,000 working aged Canadians who report being limited in their daily lives by a workplace injury or disease. Official stats put the number of fatalities at over 1,000 each year in Canada. We must mourn for the dead and fight for the living.
Response to the WCB Review: To read the Canadian Injured Workers Association of Alberta Response to the Final Report of the Alberta Workers Compensation Board Review Panel, click here
New Blog Post: Hearing on Eliminating Workers' Compensation Appeals Board in Alaska Senate (Jan. 28, 2020)
October 2019: Please check out the updates after the election. We will be giving case numbers and all names affiliated with an injured workers claim where the AC and WCB has knowingly broken the law and infringed on injured workers' human rights intentionally making injured workers and their families suffer for monetary greed. We ask the public to join in solidarity and help get those in power to press charges with us. In Alberta, no one should be above the law.
If you're an injured worker and have proof the WCB staff and AC panels have laughed at the law regarding your claim, and you want the public to know about it, contact canadianinjuredworkers@gmail.com.
August 20, 2019: Just Common Sense
July 29, 2019: Burden of proof in workers' compensation: In the past no one in government was willing to touch the sacred cow. Even the fair practice office passed the buck and refused to answer the question. How fair is that?
National Day of Mourning: April 28, 2019
162 people who died as a result of workplace accident or disease were honoured at Edmonton's Day of Mourning ceremony on April 28 at Grant Notley Park. Here are some photos taken by Paula Kirman – you can view all of her photos here, and view videos from the event here.