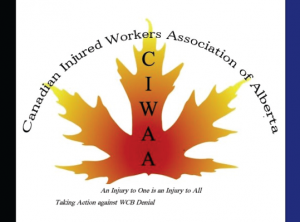 Welcome to the website of the Canadian Injured Workers Association of Alberta.
Are you looking for videos from our events? Information about our current and past actions? Visit How to Use This Site.
News from Alberta will be updated on this main page. We also now have news pages for B.C. and Ontario that are updated regularly.
The Canadian Injured Workers Association of Alberta would like to thank the Alberta Federation of Labour for their sponsorship of this website.
---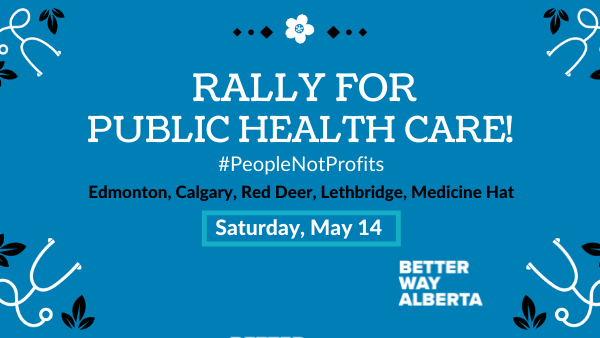 Action Alert – Rally for Public Health Care May 14!
Show your support for public health care and the health-care workers who are keeping it together despite UCP underfunding and dealing with the COVID-19 pandemic!
WHAT: Join us to rally for public health care in various locations across Alberta.
WHERE & WHEN: Saturday, May 14, 2022

Edmonton
Alberta Legislature Building
1:00 PM
Facebook Event: https://fb.me/e/eljMCltXs
Calgary
South Health Campus – U of C Hospital, Seton Hall off of Front Street, south side main entrance
1:00 PM
Facebook Event: https://fb.me/e/1Kyou51HW
Red Deer
City Hall
1:00 PM
Facebook Event: https://fb.me/e/1Pb0TpJmS
Lethbridge
City Hall
12:00 PM (NOON)
Facebook Event: https://fb.me/e/1AIMTlGmk
Medicine Hat
Regional Hospital, 5th Street Side
11:00 AM
Facebook Event: https://fb.me/e/1vVAHKfyo

WHY: Kenney and the UCP government are taking steps to privatize our health care and we need to defend public health care! They want American-style for-profit health care and they are underfunding and breaking our public health care to get it. They've already laid off public workers and started giving away public contracts to private companies that are all about PROFIT.
We need publicly-funded, publicly-delivered health care for the best outcomes because health care should be about #PeopleNotProfits
There's a better way Alberta! Join us!
If you would like to contact organizers or organize a rally in your area please contact jjohnson@afl.org for more information.
---
Another good article on occupational disease and the compensation system and # 12 in the series by Maia Foulis.
In the article, Maia writes:
Reporting on these historic exposures has opened my eyes to the injustice that these workers and their families have faced – and are still facing.
The system needs to do better to acknowledge these realities of occupational diseases:
That many of the workers affected come from lower income backgrounds, and may face additional hardships if they are women or are racialized workers. They may struggle to access the funds needed to take legal action or fight claim denials. They may fear speaking up in case they lose their job and their source of income.
That there is a lack of research and thus understanding of the way these exposures affect the human body. While the idea that there is a latency period is widely accepted, there is still little to no research being done into the cumulative effects of these exposures. In many of these workplaces, workers were exposed to a wide array of different substances. Sure, our understanding of asbestos or silica exposure has improved, but how about exposure to asbestos AND silica AND other toxic substances?
That what happened to these workers was quite simply unfair. Though our understanding of hazardous substances is far more advanced nowadays, workers back in the day largely didn't know that they were being harmed. It was an invisible danger. They deserve a voice and a system that works in their favour and holds the companies responsible for these exposures accountable – something which they have largely evaded.
https://www.thesafetymag.com/ca/topics/injuries-and-fatalities/safety-corner-the-compensation-system-is-flawed-we-need-to-fix-it/326815
---

What does a "fair hearing" mean to you?
Survey of Injured Workers about Appeal hearing formats
As we move out of pandemic precautions and back into a face to face world, the tribunals that make major decisions in our lives – workers compensation, human rights, social assistance, evictions, and others – are wondering what format to use for hearings in the future. They have been using written, telephone and video hearings during the pandemic. This has proven to be faster, cheaper and easier than traditional in-person hearings, but is it fair?

Injured Workers Community Legal Clinic would like to know what injured workers think. What does a "fair hearing" mean for you? We will bring your views to our discussions with WSIB and WSIAT.

Please take 2 minutes and complete this anonymous survey clicking here.

We thank you for your input.
---
Member of the Legislative Assembly Workers' Compensation Board (WCB) Service Review Input Committee Final Report. October 2000
WCB Appeal Systems: Are They Working Well? Final Report. November 2000
Both of the above are PDF downloads.
---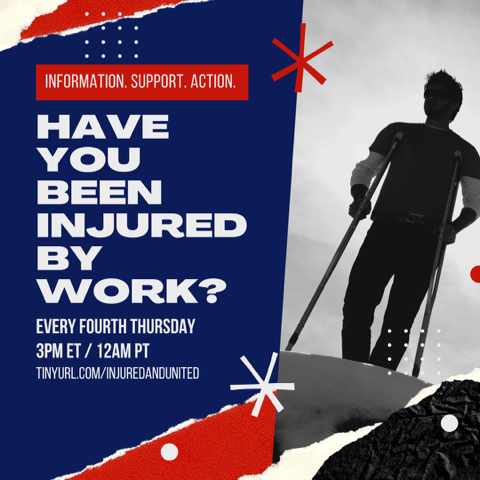 Dear workers injured or made sick by work and allies from across North America,
We are starting to build a movement for mutual support, for learning together, and for building a movement to create change… for and by workers who got injured or sick at work!
Join us in our monthly meetings on the fourth Thursdays of each month at 3pm Eastern / 2pm Central / 1pm Mountain / 12pm Pacific
Register or join at tinyurl.com/injuredandunited!
---
Let's celebrate our victories! (video from the CLC)
---
Occupational exposure series: Once-thriving industry leaves hundreds of workers ill, battling for compensation
---
At least 107 Ontario workers have died from COVID-19 they caught at work – Results from a Freedom of Information request shows that 40 workers in Toronto alone died from COVID-19 they contracted on the job. – By Nora Loreto (December 20, 2021)
About the newly formed Occupational Disease Reform Alliance (ODRA): https://cpcml.ca/WF2021/Articles/WO081123.HTM
About the Submission on Bill 27 from IWC: https://cpcml.ca/WF2021/Articles/WO081122.HTM

Bill 27 overview: https://cpcml.ca/WF2021/Articles/WO081121.HTM
---
In 2002, the owners of the mill in Dryden, Ont. started a project to reduce emissions, but workers on the construction project complain that they were exposed to toxic chemicals that damaged their health. CTV's W5 spoke with some of the workers about what they went through.
---
Please share with Alberta's Ombudsperson
THE Ombudsperson is calling on the province to fix a rarely occurring but significant gap in B.C.'s #workerscompensation law https://voiceonline.com/ombudsperson-permit-worksafebc…/ "Severed Trust: Enabling #WorkSafeBC to do the right thing when its mistakes hurt #injuredworkers arose" from a case where errors made by WorkSafeBC terminating the benefits of an already #injuredworker directly led to a second, more serious injury resulting in a partial amputation of a worker's hand. After the second accident, WorkSafeBC's Review Division ruled that it was wrong to have terminated the injured worker's benefits following the first accident.
---
New at Our Blog: All parties should commit to lifting people with disabilities out of poverty
Injured worker wins entitlement 72 years after horrific burns at work
---
Power to Abuse
This Indigenous ex-cop is owed 15 years in lost wages. Instead he's living without running water.
WSIB ruled in Ralph Thistle's favour last September but he still hasn't been paid.
https://www.cbc.ca/news/canada/toronto/this-indigenous-ex-cop-is-owed-15-years-in-lost-wages-instead-he-s-living-without-running-water-1.6079027?ref=mobilerss&cmp=newsletter_CBC%20Toronto_1642_286198
---
Ombudsman takes injured workers complaints seriously
From Australia: WorkSafe2: Follow-up investigation into the management of complex workers compensation claims
---
Day of Mourning 2021
Tragically, the human cost of COVID-19 goes undocumented but it's full cost is known all too well by essential workers and their families. Produced by the Edmonton and District Labour Council.
---
Injured Workers Speak Out
---
Must-Read: 'We didn't have Gavin anymore': The aftermath of a workplace injury
---
Alberta Workers Need a Win Like Ontario
Another win for the Ontario Network of Injured Workers Groups at the Superior Court of Ontario. Thanks to ARCH for their great work on this case!
https://www.lawtimesnews.com/practice-areas/corporate-commercial/privacy-rights-of-workers-with-disabilities-at-issue-in-commercial-dispute-over-alleged-negligence/355115
---
MUST READ:
New Alberta Law Makes Sweeping Changes to Occupational Health and Safety Act, Amends Workers' Compensation Act
Demands
No more deeming (and/or)

no more phantom jobs
stop pretending injured workers can get safe and appropriate jobs during a pandemic.

A "presumptive clause" so that workers in at-risk sectors automatically get coverage when they get COVID-19
Universal coverage – so that all workers in Alberta have access to workers comp when they are sick or injured
Listen to our doctors! Listen to science!
Safer conditions and better treatment for migrant workers.
Better healthcare for injured workers.
Someone at WCB to return my calls when I have questions or concerns about my claim.
Response to the WCB Review: To read the Canadian Injured Workers Association of Alberta Response to the Final Report of the Alberta Workers Compensation Board Review Panel, click here