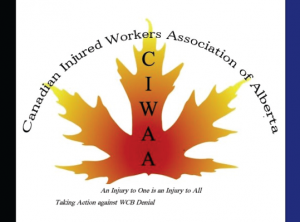 Welcome to the website of the Canadian Injured Workers Association of Alberta.
Are you looking for videos from our events? Information about our current and past actions? Visit How to Use This Site.
News from Alberta will be updated on this main page. We also now have news pages for B.C. and Ontario that are updated regularly.
The Canadian Injured Workers Association of Alberta would like to thank the Alberta Federation of Labour for their sponsorship of this website.
---
ONIWG continues to speak out on key issues facing injured workers
---
Ontario Injured Workers Day 2022 – Lively Online Rally and Town Hall Celebrate Collective Fight for Rights
---
Migrant Workers Hold Militant Action at Workers' Compensation Office
---
Ontario Injured Workers Day 2022: Women of Inspiration Hold Online Vigil
---
A systematic problem – Alberta included.
In the News May 24
Ontario Election 2022
Life and Death Demands of Injured Workers
In this election, the demands of injured workers are very important. June 1 is marked every year as Injured Workers' Day in Ontario. This year, an issue of major concern is the unacceptable discrepancy between the official data released by governments and compensation boards, such as Ontario's Workplace Safety and Insurance Board (WSIB) and the actual data that exists on the number of work-related fatalities, injuries and illnesses.
This year, for example, the Workers' Health & Safety Centre (WHSC), which carries out a lot of research and trains workplace representatives, wrote that while the official WSIB-recognized worker death claims for 2020 was 324, its own estimate is at least 3,240. The WSIB also officially reported that there were 153,193 injury and illness claims, while the Centre's estimate was 310,000. The Centre also reported that most deaths, injuries and illnesses caused by exposure to work-related hazards are never reported or recognized by the WSIB. The same applies to COVID-19 infections and deaths, as well as mental health problems, which have skyrocketed as a result of the failure by governments and big business interests to look after the human factor at work. This is especially the case under pandemic conditions.
Research undertaken at the University of Ottawa has produced similar results country-wide. Researchers have confirmed what workers have proven with their lives, that the annual fatality numbers are generated via a system that was never intended to track workplace death, but only includes workplace fatalities that are compensable. There is constant pressure from governments and compensation boards which serve narrow private interests to reduce recognized and compensable workplace fatalities, injuries and illnesses.
The pressure on workers not to report injuries and illnesses has also increased, along with legal challenges to the claims workers are putting forward for recognition and compensation. The latest criminal activity in this regard is the decision of the Ontario government to refund the so-called surplus funds in the compensation system to major employers even though the source of this "surplus" is the massive cuts to compensation for injured workers who are being pushed further into poverty.
A corrupt system has been developed by successive governments, particularly since the launch of the anti-social offensive over 30 years ago, whereby compensation for workers injured or made ill on the job is considered a cost to be reduced because it hinders the ability of narrow private interests to reap maximum profit.
It is sad but true that no Ontario government, at least over the last 30 years, has done its duty to protect workers and recognize the right of workers to safe and healthy working conditions and to compensation when harmed. Far from it – the situation of injured workers has steadily worsened.
It is only through the resolute struggle of workers, including the defence organizations of injured workers such as the Ontario Network of Injured Workers' Groups (ONIWG), that workers' dignity and rights have been defended.
Not only are these organizations fighting against attacks on injured workers, they are also presenting demands and solutions based on the defence of workers' rights. ONIWG has a series of demands, the three main ones in the immediate term being: No Cuts to Benefits Based on Phantom Jobs!, Listen to the Health Care Professionals Treating Injured Workers! Stop Cutting Benefits Based on "Pre-existing Conditions"!
In the fall of 2021, the Occupational Disease Reform Alliance (ODRA) was founded. The Alliance is made up of groups dealing with occupational disease clusters throughout Ontario, such as Sarnia/Chemical Valley, mining communities and others in which exposure to toxic products has created deadly occupational diseases over the decades. The Alliance is demanding recognition and compensation. Its demands include, among others, compensation for occupational disease claims where workplace patterns exceed levels in the community and the expansion of the list of occupational diseases presumed to be work-related.
These are injured workers' organizations and their allies speaking out in their own name, doing their own research, holding forums and demonstrations, and not letting the mantra of "serving the economy" be used against their demands for justice and rights that belong to them as injured workers and as human beings. It is the workers of Ontario who create the province's social wealth through their labour within a system that they do not control. It is therefore the responsibility of that system and its representatives to provide healthy and safe conditions and ensure that those who are injured or become ill, or the families of workers who lose their lives, have a Canadian standard of living as a matter of right. Otherwise "serving the economy" is simply a cover-up by all governments implementing the anti-social offensive to serve the rich at all costs and leave people to fend for themselves.
The work that injured workers and their organizations are doing by speaking in their own name in this election is the way to go. It is also the way to prepare and train a force of worker politicians who will run for election so that the legislature is comprised of people who are not beholden to the cartel parties. These cartel parties form governments and pass anti-worker laws, make promises and claim to have policy objectives that sound good but can be abandoned at any time through pretexts such as the "economic crisis" or the "pandemic." The life and death demands of injured workers need true representation under the control and decision-making power of the workers themselves.
This is how the situation can be changed and the problems resolved in a way that favours the people.
Ontario Political Forum, posted May 24, 2022.
https://cpcml.ca/itn220524-opf-art3/
---
Another good article on occupational disease and the compensation system and # 12 in the series by Maia Foulis.
In the article, Maia writes:
Reporting on these historic exposures has opened my eyes to the injustice that these workers and their families have faced – and are still facing.
The system needs to do better to acknowledge these realities of occupational diseases:
That many of the workers affected come from lower income backgrounds, and may face additional hardships if they are women or are racialized workers. They may struggle to access the funds needed to take legal action or fight claim denials. They may fear speaking up in case they lose their job and their source of income.
That there is a lack of research and thus understanding of the way these exposures affect the human body. While the idea that there is a latency period is widely accepted, there is still little to no research being done into the cumulative effects of these exposures. In many of these workplaces, workers were exposed to a wide array of different substances. Sure, our understanding of asbestos or silica exposure has improved, but how about exposure to asbestos AND silica AND other toxic substances?
That what happened to these workers was quite simply unfair. Though our understanding of hazardous substances is far more advanced nowadays, workers back in the day largely didn't know that they were being harmed. It was an invisible danger. They deserve a voice and a system that works in their favour and holds the companies responsible for these exposures accountable – something which they have largely evaded.
https://www.thesafetymag.com/ca/topics/injuries-and-fatalities/safety-corner-the-compensation-system-is-flawed-we-need-to-fix-it/326815
---

What does a "fair hearing" mean to you?
Survey of Injured Workers about Appeal hearing formats
As we move out of pandemic precautions and back into a face to face world, the tribunals that make major decisions in our lives – workers compensation, human rights, social assistance, evictions, and others – are wondering what format to use for hearings in the future. They have been using written, telephone and video hearings during the pandemic. This has proven to be faster, cheaper and easier than traditional in-person hearings, but is it fair?

Injured Workers Community Legal Clinic would like to know what injured workers think. What does a "fair hearing" mean for you? We will bring your views to our discussions with WSIB and WSIAT.

Please take 2 minutes and complete this anonymous survey clicking here.

We thank you for your input.
---
Member of the Legislative Assembly Workers' Compensation Board (WCB) Service Review Input Committee Final Report. October 2000
WCB Appeal Systems: Are They Working Well? Final Report. November 2000
Both of the above are PDF downloads.
---
Let's celebrate our victories! (video from the CLC)
---
Occupational exposure series: Once-thriving industry leaves hundreds of workers ill, battling for compensation
---
At least 107 Ontario workers have died from COVID-19 they caught at work – Results from a Freedom of Information request shows that 40 workers in Toronto alone died from COVID-19 they contracted on the job. – By Nora Loreto (December 20, 2021)
About the newly formed Occupational Disease Reform Alliance (ODRA): https://cpcml.ca/WF2021/Articles/WO081123.HTM
About the Submission on Bill 27 from IWC: https://cpcml.ca/WF2021/Articles/WO081122.HTM

Bill 27 overview: https://cpcml.ca/WF2021/Articles/WO081121.HTM
---
In 2002, the owners of the mill in Dryden, Ont. started a project to reduce emissions, but workers on the construction project complain that they were exposed to toxic chemicals that damaged their health. CTV's W5 spoke with some of the workers about what they went through.
---
Please share with Alberta's Ombudsperson
THE Ombudsperson is calling on the province to fix a rarely occurring but significant gap in B.C.'s #workerscompensation law https://voiceonline.com/ombudsperson-permit-worksafebc…/ "Severed Trust: Enabling #WorkSafeBC to do the right thing when its mistakes hurt #injuredworkers arose" from a case where errors made by WorkSafeBC terminating the benefits of an already #injuredworker directly led to a second, more serious injury resulting in a partial amputation of a worker's hand. After the second accident, WorkSafeBC's Review Division ruled that it was wrong to have terminated the injured worker's benefits following the first accident.
---
New at Our Blog: All parties should commit to lifting people with disabilities out of poverty
Injured worker wins entitlement 72 years after horrific burns at work
---
Power to Abuse
This Indigenous ex-cop is owed 15 years in lost wages. Instead he's living without running water.
WSIB ruled in Ralph Thistle's favour last September but he still hasn't been paid.
https://www.cbc.ca/news/canada/toronto/this-indigenous-ex-cop-is-owed-15-years-in-lost-wages-instead-he-s-living-without-running-water-1.6079027?ref=mobilerss&cmp=newsletter_CBC%20Toronto_1642_286198
---
Ombudsman takes injured workers complaints seriously
From Australia: WorkSafe2: Follow-up investigation into the management of complex workers compensation claims
---
Day of Mourning 2021
Tragically, the human cost of COVID-19 goes undocumented but it's full cost is known all too well by essential workers and their families. Produced by the Edmonton and District Labour Council.
---
Injured Workers Speak Out
---
Must-Read: 'We didn't have Gavin anymore': The aftermath of a workplace injury
---
Alberta Workers Need a Win Like Ontario
Another win for the Ontario Network of Injured Workers Groups at the Superior Court of Ontario. Thanks to ARCH for their great work on this case!
https://www.lawtimesnews.com/practice-areas/corporate-commercial/privacy-rights-of-workers-with-disabilities-at-issue-in-commercial-dispute-over-alleged-negligence/355115
---
MUST READ:
New Alberta Law Makes Sweeping Changes to Occupational Health and Safety Act, Amends Workers' Compensation Act
Demands
No more deeming (and/or)

no more phantom jobs
stop pretending injured workers can get safe and appropriate jobs during a pandemic.

A "presumptive clause" so that workers in at-risk sectors automatically get coverage when they get COVID-19
Universal coverage – so that all workers in Alberta have access to workers comp when they are sick or injured
Listen to our doctors! Listen to science!
Safer conditions and better treatment for migrant workers.
Better healthcare for injured workers.
Someone at WCB to return my calls when I have questions or concerns about my claim.
Response to the WCB Review: To read the Canadian Injured Workers Association of Alberta Response to the Final Report of the Alberta Workers Compensation Board Review Panel, click here