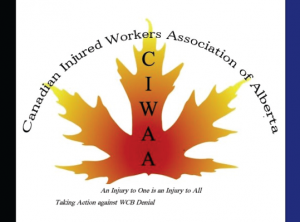 Welcome to the website of the Canadian Injured Workers Association of Alberta.
Are you looking for videos from our events? Information about our current and past actions? Visit How to Use This Site.
News from Alberta will be updated on this main page. We also now have news pages for B.C. and Ontario that are updated regularly.
---
New at Our Blog: Injured worker wins entitlement 72 years after horrific burns at work
---
Power to Abuse
This Indigenous ex-cop is owed 15 years in lost wages. Instead he's living without running water.
WSIB ruled in Ralph Thistle's favour last September but he still hasn't been paid.
https://www.cbc.ca/news/canada/toronto/this-indigenous-ex-cop-is-owed-15-years-in-lost-wages-instead-he-s-living-without-running-water-1.6079027?ref=mobilerss&cmp=newsletter_CBC%20Toronto_1642_286198
---
Ombudsman takes injured workers complaints seriously
From Australia: WorkSafe2: Follow-up investigation into the management of complex workers compensation claims
---
Day of Mourning 2021
Tragically, the human cost of COVID-19 goes undocumented but it's full cost is known all too well by essential workers and their families. Produced by the Edmonton and District Labour Council.
---
Injured Workers Speak Out
---
Must-Read: 'We didn't have Gavin anymore': The aftermath of a workplace injury
---
Alberta Workers Need a Win Like Ontario
Another win for the Ontario Network of Injured Workers Groups at the Superior Court of Ontario. Thanks to ARCH for their great work on this case!
https://www.lawtimesnews.com/practice-areas/corporate-commercial/privacy-rights-of-workers-with-disabilities-at-issue-in-commercial-dispute-over-alleged-negligence/355115
---
MUST READ:
New Alberta Law Makes Sweeping Changes to Occupational Health and Safety Act, Amends Workers' Compensation Act
Demands
No more deeming (and/or)

no more phantom jobs
stop pretending injured workers can get safe and appropriate jobs during a pandemic.

A "presumptive clause" so that workers in at-risk sectors automatically get coverage when they get COVID-19
Universal coverage – so that all workers in Alberta have access to workers comp when they are sick or injured
Listen to our doctors! Listen to science!
Safer conditions and better treatment for migrant workers.
Better healthcare for injured workers.
Someone at WCB to return my calls when I have questions or concerns about my claim.
Response to the WCB Review: To read the Canadian Injured Workers Association of Alberta Response to the Final Report of the Alberta Workers Compensation Board Review Panel, click here