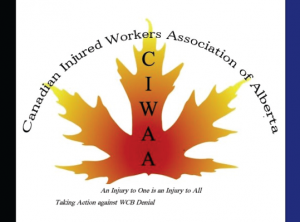 Welcome to the website of the Canadian Injured Workers Association of Alberta.
Are you looking for videos from our events? Information about our current and past actions? Visit How to Use This Site.
---
MUST READ:
New Alberta Law Makes Sweeping Changes to Occupational Health and Safety Act, Amends Workers' Compensation Act
Demands
No more deeming (and/or)

no more phantom jobs
stop pretending injured workers can get safe and appropriate jobs during a pandemic.

A "presumptive clause" so that workers in at-risk sectors automatically get coverage when they get COVID-19
Universal coverage – so that all workers in Alberta have access to workers comp when they are sick or injured
Listen to our doctors! Listen to science!
Safer conditions and better treatment for migrant workers.
Better healthcare for injured workers.
Someone at WCB to return my calls when I have questions or concerns about my claim.
---
WATCH THIS:
---
An interview with Katherine Lippel on the TV show Community Conversations. As you may know, Katherine is a professor at the University of Ottawa and the distinguished research chair in occupational health and safety law. She has been involved for more that 40 years and is a friend to workers and supporter of workers rights.
---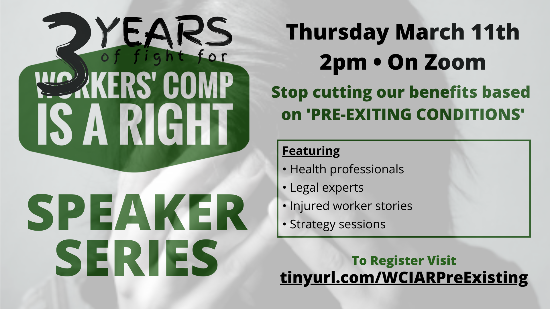 Stop Cutting Our Benefits Based On Pre-Existing Conditions! 

Friends,

As you know, last summer marked the 3rd Anniversary of our Workers' Comp Is A Right campaign. Since then, we have hosted two "Speaker Series" events, on each of our first two core-demands: No More Deeming; and Listen To Our Doctors.

On Thursday, March 11th at 2pm, we will stage another event, this time about our third core demand: Stop Cutting Our Benefits Based on Pre-Existing Conditions.
Please join us for an online conversation (on Zoom and Facebook) to recap, rejuvenate, and further these important demands. The event will feature:
Health Professionals
Legal Experts
Injured Worker Stories
Strategy Sessions
Register here
Join and share the facebook event here.
---
Does WCB label injured workers to avoid compensating non-organic , non-discernible chronic pain? The Supreme Court of Canada Martin/Laseur 2003 SCC 54, all disabled chronic pain suffers should be treated equal it is their human right. Do you have a complaint for Human Rights?
York University of Toronto conducted a new research on chronic pain "Chronic Pain, Psychopathology, and DSM-5 Somatic Symptom Disorder".
Please review the article below
https://www.ncbi.nlm.nih.gov/pmc/articles/PMC4459242/
The new Diagnostic and Statistical Manual of Mental Disorders, Fifth Edition, Somatic symptom disorder overpsychologizes people with chronic pain; it has low sensitivity and specificity, and it contributes to misdiagnosis, as well as unnecessary stigma. Adjustment disorder remains the most appropriate, accurate, and acceptable diagnosis for people who are overly concerned about their pain.
Diagnostic and Statistical Manual of Mental Disorders, Fifth Edition, and Chronic Pain
The golden rule: an underlying medical illness or medication side effect has to be ruled out before ever deciding that someone's symptoms are caused by mental disorder. . . . There are serious risks attached to over-psychologizing somatic symptoms and mislabeling the normal reactions to being sick − especially when the judgments are based on vague wording that can't possibly lead to reliable diagnosis. DSM-5 as it now stands will add to the suffering of those already burdened with all the cares of having a medical illness.
…2 major criticisms have been levelled against the DSM-5: diagnostic inflation and inadequate field testing. Both appear to apply to the new diagnostic category of SSD. The main criticism of SSD is the high probability of misdiagnosing a medical illness, including chronic pain conditions, as a mental illness. Further, the conditions that qualify for a diagnosis of SSD are extremely variable. They include a highly mixed group of patients with medically unexplained symptoms, medical patients with significant symptoms of emotional distress, patients with typical chronic pain conditions (for example, low-back pain, fibromyalgia, rheumatoid arthritis) and patients with health-related anxiety.
…given the problems with current diagnostic criteria for SSD, noted above, alternative diagnoses have been suggested as appropriate for people with chronic pain; including, psychological factors affecting other medical conditions and adjustment disorder. The distinction between SSD and psychological factors affecting other medical conditions is not clear-cut, especially for people with chronic pain conditions, as both involve a diagnosable medical condition. For SSD, the emphasis is said to be on "maladaptive thoughts, feelings and behavior," whereas for psychological factors affecting other medical conditions the emphasis in on "the exacerbation of the medical condition." This distinction seems arbitrary for people with chronic pain, as pain is known to produce worry and worry is known to exacerbate pain. Until the criteria for SSD are appropriately revised, adjustment disorder is a "safer and more accurate" diagnosis when one is needed for someone who is "medically ill or otherwise troubled by puzzling symptoms" Chronic pain is highly comorbid with anxiety and depression.
---
DSM-5 SSD with predominant pain replaces DSM IV pain disorder but it is NOT recommended for people with chronic pain, because it lacks validity, and is overly inclusive and stigmatizing. Instead, adjustment disorder remains the most appropriate, accurate, and acceptable diagnosis for people who are overly concerned about their pain.
BIG CHANGES ? LET'S HOPE SO FOR BC INJURED WORKERS
The Patterson Report in BC has just been released. The author Janet Patterson has a long history representing workers in the BC WCB processes. Here is the CBC article about the report.
https://www.cbc.ca/news/canada/british-columbia/new-government-commissioned-report-recommends-cultural-shift-at-wcb-to-better-support-workers-1.5701542
It is a mammoth report available here:
https://www2.gov.bc.ca/assets/gov/government/ministries-organizations/ministries/labour/work_comp_review_2019_-_final_report.pdf
And here is the link to the voices of injured workers:
https://engage.gov.bc.ca/app/uploads/sites/482/2020/08/Addendum-Report-FINAL1.pdf
---
Article Link: 1983: The Year BC Citizens and Workers Fought Back: Operation Solidarity ended in bitterness, but mass protests scored dramatic victories against Bennett government. (Written by Rod Mickleburgh, a former a journalist with the Globe and Mail for 22 years. He is currently freelancing and writing a blog. His most recent book is On the Line: A History of the British Columbia Labour Movement.)
Site Counter: Our site counter, in the bottom right-hand side of the page, was broken for the last while. Those numbers should be increasing again!
Day of Mourning: April 28 is the National Day of Mourning, where we remember those who have died due to workplace injuries or illnesses. Last year, 166 Albertans never came home, or succumbed to their workplace-related disease. According to the Stats-can survey in 2017, there are about 1,550,000 working aged Canadians who report being limited in their daily lives by a workplace injury or disease. Official stats put the number of fatalities at over 1,000 each year in Canada. We must mourn for the dead and fight for the living.
Response to the WCB Review: To read the Canadian Injured Workers Association of Alberta Response to the Final Report of the Alberta Workers Compensation Board Review Panel, click here
New Blog Post: Hearing on Eliminating Workers' Compensation Appeals Board in Alaska Senate (Jan. 28, 2020)
October 2019: Please check out the updates after the election. We will be giving case numbers and all names affiliated with an injured workers claim where the AC and WCB has knowingly broken the law and infringed on injured workers' human rights intentionally making injured workers and their families suffer for monetary greed. We ask the public to join in solidarity and help get those in power to press charges with us. In Alberta, no one should be above the law.
If you're an injured worker and have proof the WCB staff and AC panels have laughed at the law regarding your claim, and you want the public to know about it, contact canadianinjuredworkers@gmail.com.
August 20, 2019: Just Common Sense
July 29, 2019: Burden of proof in workers' compensation: In the past no one in government was willing to touch the sacred cow. Even the fair practice office passed the buck and refused to answer the question. How fair is that?
National Day of Mourning: April 28, 2019
162 people who died as a result of workplace accident or disease were honoured at Edmonton's Day of Mourning ceremony on April 28 at Grant Notley Park. Here are some photos taken by Paula Kirman – you can view all of her photos here, and view videos from the event here.