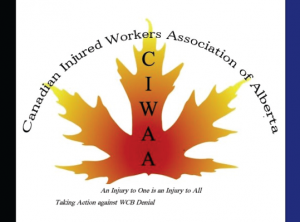 Welcome to the website of the Canadian Injured Workers Association of Alberta.
Are you looking for videos from our events? Information about our current and past actions? Visit How to Use This Site.
News from Alberta will be updated on this main page. We also now have news pages for B.C. and Ontario that are updated regularly.
---
Please share with Alberta's Ombudsperson
THE Ombudsperson is calling on the province to fix a rarely occurring but significant gap in B.C.'s #workerscompensation law https://voiceonline.com/ombudsperson-permit-worksafebc…/ "Severed Trust: Enabling #WorkSafeBC to do the right thing when its mistakes hurt #injuredworkers arose" from a case where errors made by WorkSafeBC terminating the benefits of an already #injuredworker directly led to a second, more serious injury resulting in a partial amputation of a worker's hand. After the second accident, WorkSafeBC's Review Division ruled that it was wrong to have terminated the injured worker's benefits following the first accident.
---
Stand up for nurses Friday (Sept. 17)!
WHAT: The Canadian Federation of Nurses Unions are holding a Day of Action to demand change! Join nurses in protesting the lack of government action to fix the critical nursing shortage and make urgently needed improvements to Alberta's beleaguered health care system
There are a variety of tools to help you participate that you can find here. UNA also has a summary of local actions listed here.
HOW: You can take action virtually or in-person. Because of the sharp rise in COVID-19 cases across Alberta, UNA is encouraging members and locals to participate in ways other than traditional in-person rallies or info-pickets.
On September 17, take a picture of yourself holding a CNFU campaign sign and post it on social media or download and print one of these UNA Action Cards (One, Two, or Three). Share your reasons for taking action and supporting nurses and post it on your social media using the hashtags #SupportNurses, #DoneAsking, #IStandWithABNurses and tag UNA's social media account (@UnitedNurses).
Call or email your local MLA. We have prepared a call script and key messages that will help you decide what you might want to tell your MLA about the current staffing crisis facing nurses in Alberta. Use the postal code search to find your MLA's contact information.
In addition, UNA Locals in Edmonton are organizing a socially distanced Car Convoy on Friday, September 17, 2021. All UNA members and supporters are welcome to join the group at 9:00 a.m. in the south west side parking lot at Mill Woods Towne Centre (2331 – 66 St NW, Edmonton) to decorate their cars and banners with messages. The convoy will depart at 10:00 a.m. and drive by the Grey Nuns Community Hospital, the St. Joseph's Auxiliary Hospital, Edmonton General Hospital, University of Alberta Hospital, Royal Alexandra Hospital and Misericordia Hospital. From that point the convoy may continue to drive by other hospitals in the surrounding area (more information will be posted as it becomes available). For more information click here, or contact local79exec@una.ca.
WHERE: Sign up to participate here.
WHEN: Friday, September 17, 2021
WHY: Canada is facing a nursing crisis. Without urgent action by provincial and federal governments to address our national nursing shortage and dangerous working conditions, things will only get worse as more and more nurses consider leaving the profession.
Nurses are done asking for safe work, fair contracts and enough staff to give our patients the care they deserve. On September 17, Canada's nurses are holding a national day of action to demand change.
---
TB Tuesday Injured Workers Session Starting again – Tuesday Sept 14, 2021
Many of you may know Maryam Nazemi from her years of activism and community building in the injured worker movement, especially around our campaign for universal coverage and with the Women of Inspiration.
Maryam, along with Mahboob, the co-founder of PilotMind and Jaisa Sulit the co-teacher of Mindful Self-Compassion (MSC) will be joining us to give an hour presentation of what Mindfulness and Mindful Self-Compassion is about. This will help a person to navigate their attention through difficult and stressful times, to be in a wiser relation with their anxiety and depression.
Thunder Bay Injured Workers is inviting you to a scheduled Zoom meeting.
Topic: TB Tuesday Injured Worker Session Planning Meeting
Time: Sep 14, 2021 10:00 AM Eastern Time (US and Canada)
Every week on Tue, until Oct 26, 2021, 7 occurrence(s)
Sep 14, 2021 10:00 AM
Sep 21, 2021 10:00 AM
Sep 28, 2021 10:00 AM
Oct 5, 2021 10:00 AM
Oct 12, 2021 10:00 AM
Oct 19, 2021 10:00 AM
Oct 26, 2021 10:00 AM
Please download and import the following iCalendar (.ics) files to your calendar system.
Weekly: https://us02web.zoom.us/meeting/tZAqf-6uqT4vGtzyRl5m7XTDdMZ5zvpoAVb8/ics?icsToken=98tyKuGsqTMtHNOQtRmPRpwIB4qgKO7wtiVYjbdHhS3pVi0EWjfSMs94Z6hpANfx
Join Zoom Meeting
https://us02web.zoom.us/j/84787675508?pwd=dUEveVpZTEttQnJFRjRSZkpsREtTdz09
Meeting ID: 847 8767 5508
Passcode: 176213
One tap mobile
+16475580588,,84787675508#,,,,*176213# Canada
+17789072071,,84787675508#,,,,*176213# Canada
Dial by your location
+1 647 558 0588 Canada
+1 778 907 2071 Canada
+1 204 272 7920 Canada
+1 438 809 7799 Canada
+1 587 328 1099 Canada
+1 647 374 4685 Canada
Meeting ID: 847 8767 5508
Passcode: 176213
Find your local number: https://us02web.zoom.us/u/kbqZJGKoLH
---
New at Our Blog: All parties should commit to lifting people with disabilities out of poverty
Injured worker wins entitlement 72 years after horrific burns at work
---
Power to Abuse
This Indigenous ex-cop is owed 15 years in lost wages. Instead he's living without running water.
WSIB ruled in Ralph Thistle's favour last September but he still hasn't been paid.
https://www.cbc.ca/news/canada/toronto/this-indigenous-ex-cop-is-owed-15-years-in-lost-wages-instead-he-s-living-without-running-water-1.6079027?ref=mobilerss&cmp=newsletter_CBC%20Toronto_1642_286198
---
Ombudsman takes injured workers complaints seriously
From Australia: WorkSafe2: Follow-up investigation into the management of complex workers compensation claims
---
Day of Mourning 2021
Tragically, the human cost of COVID-19 goes undocumented but it's full cost is known all too well by essential workers and their families. Produced by the Edmonton and District Labour Council.
---
Injured Workers Speak Out
---
Must-Read: 'We didn't have Gavin anymore': The aftermath of a workplace injury
---
Alberta Workers Need a Win Like Ontario
Another win for the Ontario Network of Injured Workers Groups at the Superior Court of Ontario. Thanks to ARCH for their great work on this case!
https://www.lawtimesnews.com/practice-areas/corporate-commercial/privacy-rights-of-workers-with-disabilities-at-issue-in-commercial-dispute-over-alleged-negligence/355115
---
MUST READ:
New Alberta Law Makes Sweeping Changes to Occupational Health and Safety Act, Amends Workers' Compensation Act
Demands
No more deeming (and/or)

no more phantom jobs
stop pretending injured workers can get safe and appropriate jobs during a pandemic.

A "presumptive clause" so that workers in at-risk sectors automatically get coverage when they get COVID-19
Universal coverage – so that all workers in Alberta have access to workers comp when they are sick or injured
Listen to our doctors! Listen to science!
Safer conditions and better treatment for migrant workers.
Better healthcare for injured workers.
Someone at WCB to return my calls when I have questions or concerns about my claim.
Response to the WCB Review: To read the Canadian Injured Workers Association of Alberta Response to the Final Report of the Alberta Workers Compensation Board Review Panel, click here