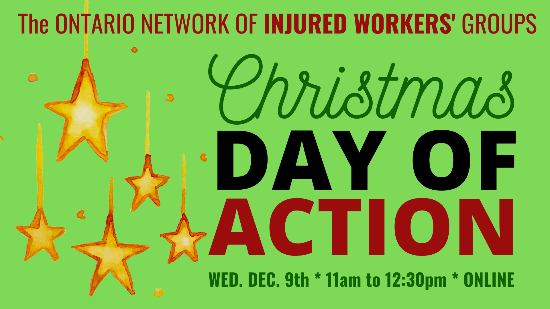 Friends,
While the holiday is often a special time for many Ontarians, for many injured workers, it is a time that only emphasizes the poverty and isolation we experience all year round. COVID-19 has only increased these problems. As studies show, many permanently injured workers experience a cascading set of health impacts that make COVID particularly dangerous.
For more than 20 years, we have gathered on the steps of the Ministry of Labour or the WSIB offices in December to remind the Board and the government that – despite the systemic challenges – we are still capable of celebrating the season, and demonstrating the power we hold when we work together.
On December 9th at 11am, please join us on Facebook Live for a festive gathering featuring singalongs, messages from our allies, and demands to fix the workers' compensation system.
We will mark the occasion with singalongs, speeches, and a demand for Justice for Injured Workers!
More details will follow, but please mark your calendars.
Thank you, we look forward to seeing you soon.
– The WCIAR Team